This lightweight and extremely ergonomic mattress bed is perfect for all breeds and ages. You can see where we got the name from right? The plush soft top is easy on older dogs joints, and super comfortable for naps any time of day.
SMALL
MEDIUM
LARGE 
X LARGE
GIANT

Width

: 61cm


Depth

: 45cm


Height

: 11cm

Width: 76cm
Depth: 56cm
Height: 13cm

Width: 91cm
Depth: 68cm
Height: 15cm

Width: 110cm
Depth: 80cm
Height: 15cm

Width

: 130cm


Depth

: 90cm 


Height

: 15cm
CLEANING GUIDE
The cover is fully removable for easy washing.
Unzip cover and remove inner foam sections (keep aside)
Gentle machine wash in cool water using mild detergent
Air dry - do not tumble dry as this may cause the cover to shrink
Our cute models are on the Medium size bed.
Customer Reviews
Write a Review
Ask a Question
11/16/2020
Navin G.
Australia
Amazing!
We've only bought Kazoo beds for our dog since we got him and he absolutely loves it! We got the cloud comfort bed which is so soft and fully machine washeable which was critical for us. Kazoo is our forever brand, we'll never look out for others cause we don't need to!
09/25/2020
Katie
Australia
Good design
Very happy with this dog bed. I love that it only has slight bolsters and not high sides. I find that dog beds with high sides just get crushed and flattened. It's also nice and thick and the top fabric is easily wiped with a damp cloth. I'm also grateful that there was a size around 80 x 100 cm. I find a lot of dog beds are too small in medium sizes and too big in large sizes. The only thing I would change is the grey top fabric to be a little darker but that's personal preference. Thanks kazoo for making a lovely dog bed.
09/13/2020
Sash
Australia
Such a great dog bed
Bought this for my big old girl and am honestly so impressed with the quality. It's very thick, but soft, perfect for older/heavier dogs needing more support. She loves it and I'm very happy with this purchase.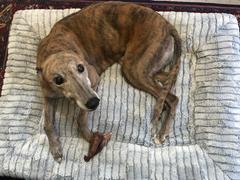 Thanks for the lovely review and the awesome picture. Happy to hear the Cloud Comfort it doing it's job.
08/06/2020
Sarah .
Australia
So comfy
My dog will not get off this bed, It looks so comfortable.