This coat reigns in the rain. It's waterproof, has its own detachable hood and is high vis with reflective finishes so you'll be able to see me at all times.
No wonder I've taken such a shine to it. 
BEST BITS:
Waterproof
Harness hatch
Reflective stitching and strap for night walking
Zip-up pocket
Easy to fit and adjust with velcro fastenings
Machine washable
To choose a correct size, check out our size guide.
Our doggy models wear size small.
Customer Reviews
Write a Review
Ask a Question
06/21/2021
Clare E.

Australia
Rain proof dog jacket
The item is perfect, fits very well and is actually waterproof - so good we have bought a second one for our other dog - would certainly recommend!
09/16/2020
Cathy R.

Australia
Rainy day coat
Great product - chest strap a bit too long, but easily shortened. Good zip off hoodie for dogs who just can't get used to 'hats!'
09/07/2020
Samantha M.

Australia
Great fit, waterproof & hi-vis
Love this jacket for my dogs, it's completely waterproof. It has a removable hood (thankfully, because my dogs did not like the hood!). The velcro fastening makes for a great fit and the loop hole to keep the velcro strap in place is great for my skinny dog (so the strap doesn't drag along in the dirt). Highly recommend!
09/04/2020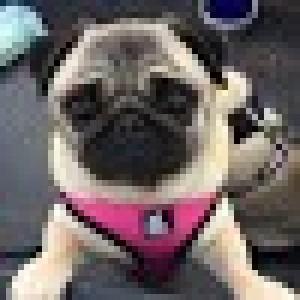 LE
Lyn E.

Australia
Excellent Raincoat
The raincoat fitted perfectly and is great quality, the girls love them and we can now walk them comfortably in the rain. Thank you.
09/04/2020
Renee P.

Australia
Life long customer
I have been using your Kazoo yellow rain coat for 4 years now. It has lasted 4 winters with a rough and tumble cattle dog. It machine washes wonderfully and dries quite quickly. This year I purchased 2 new yellow raincoats one for my new dog and up a size for my other dog. They are wonderful. The added reflective stripping is awesome however I do prefer the old belly strap with the two as when my dog rolls herself sometimes it will pop open whereas the old belly strap had so much Velcro this wasn't a possibility. I have found these jackets invaluable for our off lead bush walks as they are both highly visible and easy to spot. Allowing me to be more comfortable with them exploring. I would love Kazoo to bring out a light weight reflective jacket that is made purely for visibility and not necessarily for the rain. As my youngest dog is deaf I would love to have something highly visible she can wear all year round incase she gets lost (and can't hear me calling). I will definitely continue to use, buy and tell people about this product. Great job guys!