Let your pet recover in comfort. These collars are made from padded foam, so they bend with the pets movements whilst still providing an adequate guard.
To ensure you choose the right size, you need to take two measurements:
1. Measure the length from your pets neck to it's snout
2. Measure the circumference of your pets neck
X SMALL
SMALL
MEDIUM
LARGE 
X LARGE
XX LARGE

Collar
depth: 9cm

Collar




depth: 12.5cm

Collar




depth: 14cm

Collar




depth: 19cm

Collar




depth: 23.5cm

Collar




depth: 30.5cm

To fit neck:
18 - 22cm

To fit neck:
22 - 25cm

To fit neck:
25 - 31cm

To fit neck:
31 - 39cm

To fit neck:
42 - 56cm

To fit neck:
54 - 67cm
Customer Reviews
Write a Review
Ask a Question
04/07/2021
Elizabeth L.

Australia
Comfy Recover Collar
What a relief for the whole family to have this collar. Our German Shepherd could sleep more comfortably at night and we did too as she wasn't crashing around in a plastic cone waking up the whole household! She still wears a plastic cone if we are out as she would manage to remove the soft cone. Definitely needed XXL to ensure the cone extended beyond the snout. Thank you!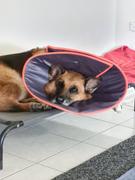 03/10/2021
Ash P.

Australia
02/03/2021
Jaana W.

Australia
Comfy Recover Collar
It was such a relief for us and the dog to get that awful hard plastic collar off and replace it with the softer, pliable collar. Great product, don't know why vets don't use them.
02/03/2021
Kimberly G.

Australia
Lovely but not big enough for a Border Collie suit short nose dog :(
01/12/2021
Linda B.

Australia
Didn't work for my dog
My golden retriever still managed to lick his wounds and the soft material wasn't firm enough to provide any protection, ended up buying a traditional plastic cone in the end to replace this one.
01/04/2021
Kevin V.

Australia
Kazoo comfy collar.
So easy to use and my doggy has accepted it well. Soft and flexible so can sleep with it. Good product.
12/23/2020
Caroline O.

Australia
Comfy recover collar
The guidelines for the appropriate size for a Labrador and the measurements weren't accurate. We needed a much larger size even for a small Labrador. The product was of good quality and comfortable.
11/20/2020
Melissa H.

Australia
11/09/2020
Cate M.

Australia
Comfy and light, but a little short
This was a great starting point for a cone after my 6-month-old mini spoodle puppy was spayed. She coped reasonably well with this cone for the first few days and struggled with the longer, heavier clear plastic cone, especially when sleeping. However when she got more active, this was too short for her face and she could easily lick her stitches, which meant we had to move her up to the plastic cone. I would say for any dogs with a medium to long snout, this would be too short - even though it fits perfectly at the neck.
10/27/2020
Lisa S.

Australia
Awesome product
This cone is life changing for those of us who have pets that use their cones as battering rams. It does appear shorter than the hard cones, so depending on what injury your pet has it may not be suitable but for me it was great. My dog had multiple lumps removed so initially I bought it to that she wouldn't lick the stitches on her hind quarters. They healed beautifully...unlike some wounds on her chest. I was then able to turn the cone around so that it covered up the chest so that she couldn't scratch them. Better still, I will be able to re-use this cone in the future....usually I throw them away as they are so dirty and battered.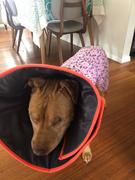 10/06/2020
Tash W.

Australia
Perfect
Amazing! Exactly what we needed.
10/03/2020
Carmen S.

Australia
Comfy Recover Collar
I ordered two of these express because my 2 cats got attacked and needed surgery. Anyway I highly recommend these collars not only were they 10 times comfier for the cats they were super easy to take on and off if I needed to clean wounds or clean food off the recovery collar. As a vet nurse never ever use anything else (very least the plastic e collars you get at the clinic) they are so uncomfortable for your pet.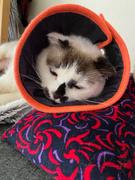 09/16/2020
Ros C.

Australia
09/14/2020
Kerrie C.

Australia
Soft cone
Not good with a staffy trying to teach them not to lick. Turned it inside out and chewed 3 out of 4 feet
Oh dear, sorry to hear that. Staffy's are the ultimate chewers hey!?
09/07/2020
Sarah

Australia
Perfect
So much better than the hard plastic ones.